Coming from an active fifth-generation mixed family farming operation, the passion for agriculture was instilled early for Will Holowaychuk. This passion has come full circle as we welcome Will to the Alberta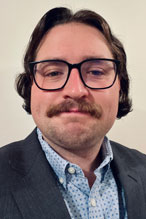 Canola team as Policy Analyst. In this role, he will be dedicated to researching and advocating on behalf of canola producers, with the overarching goal of ensuring the long-term economic and environmental sustainability of canola production and the broader agricultural sector.
Will has a Master of Agriculture (MAg) in Agriculture & Resource Economics and a Bachelor of Commerce (BCom) in Finance, both from the University of Alberta. Add to that the work experience Will has in technology, banking, and agricultural sectors, he will be bringing his wide range of skills and experiences to the canola team. We look forward to the contribution he will help make here at Alberta Canola on behalf of Canola producers!
Will can be reached at:
will@albertacanola.com
(780) 660 – 2454
Media contact:
Michelle Chunyua, Manager of Communications
michelle@albertacanola.com
(780) 224 – 7970
The mission of Alberta Canola is to support the long-term success of canola farmers in Alberta through research, extension, consumer engagement, and advocacy for canola farmers.