by Karla Bergstrom, Policy Analyst, Alberta Canola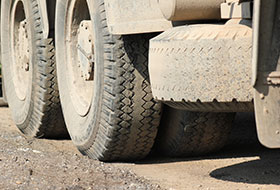 Alberta's all-season roads (paved or gravel) are actually quite fragile as frost 'comes out of the ground' or melts. The roadbed becomes soft and spongy because water is trapped between the road surface and the layer of ice underneath. The spring thaw can wreak havoc on Alberta's roads when trucks, heavy equipment, and heavy trailers, such as those loaded with manure, travel over a road causing irreversible damage, permanent cracks and potholes. Damage can also occur from driving too close to the edge of the road or on the shoulder, which are the weakest parts of the road. Alberta Transportation and other road authorities apply seasonal weight restrictions to protect the province's roads during the weather transition. The frost line or thaw depths are monitored from a provincial network of 67 electronic thermistors. (See Thaw/Contour Map)
All drivers need access to good, safe roads. When farmers carefully choose the time for hauling equipment, manure, fertilizers, grain, and other heavy loads (i.e. early morning when the ground is frozen or refrozen), and transport responsibly (i.e. reducing the weight across each axle, not overloading trucks and trailers, using wide tires, etc.), it helps preserve the roads for everyone. Agricultural producers contact your local road authority before making significant or repetitive travel. Permits may be required.
For Alberta Transportation's up-to-date road restrictions and seasonal weight changes visit:
http://www.transportation.alberta.ca/522.htm
Alberta Road bans (unofficial)

For provincial highways road ban information call toll free 1-855-ROADBAN (1-855-762-3226).
For Cities, Counties, Municipalities, and Special Areas road ban information call the individual offices.