by Karla Bergstrom, Manager of Government & Industry Affairs, Alberta Canola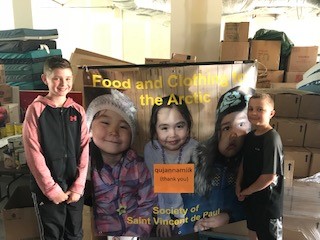 Last year my sons' school put out a call for donations to support the Society of Saint Vincent de Paul (SSVP) North of 60 project. My boys happily raided our pantry for cans of tuna and soup, but they were unaware of the significance of their actions within this greater initiative.
North of 60 (www.ssvp.ca/north-60) is an annual food security program that sends essential supplies in sea containers to those living in poverty in Canada's remote Arctic communities north of the 60th parallel. Food insecurity is a serious problem for Canada's northern indigenous communities and exorbitant prices further enshrine these communities in poverty, which affects their health and wellness. Food insecurity increases the risk of malnutrition, infections, chronic health problems like obesity, anemia, cardiovascular disease, diabetes, stress, and child developmental issues; and mental health problems such as, reduced ability to learn, depression, suicide, and social exclusion.
This was one of those teachable moments where I wanted to instill a sense of gratitude and appreciation for our many blessings because a heart-breaking number of Inuit children experience hunger when their families run out of food or money to buy food. My boys and I were saddened thinking about these children going to school and to bed hungry because they don't get enough to eat, skipping meals, or going an entire day without anything to eat, and I wondered what more could be done.
Alberta Canola has a Canola Gives Back program and the commission has donated many cases of canola oil to various food banks across Alberta. So, I asked if Alberta Canola could donate some cases of oil to the North of 60 project, which led us to meeting Peter Ouellette with SSVP's Western Regional Council. He invited us to learn more about the six communities that the oil would be helping.
Everything is donated. From non-perishables such as, flour, sugar, oil, dried vegetables, canned meat, and infant formula, to personal hygiene products, diapers, clothing, jackets, sewing machines, fabric, and yarn. Monetary donations are used to fill in the gaps and to special order whole milk powder because they need the full fat. Did you know grocery stores here sell skim milk powder because it has a longer shelf life? Used gym mats and hospital beds are perfect for stacking upright in small homes when not used for sleeping, and they aren't damaged by wet floors or little ones who pee the bed. Even the warehouse space needed to collect and organize all the donations, and the trucking needed to transport the sea containers is donated. The North of 60 project, which is in its seventh year, is enabling sustainable social change, building skills and knowledge in these Arctic communities, and is cultivating community leaders.
I invite you to watch this short video of Peter describing the North of 60 Project to see their environment and feel their gratitude.

This Canola Connects post is long overdue, but I was reminded to tell this story after seeing "The Grizzlies". It's an inspiring true story about a group of Inuit students from Kugluktuk, Nunavut who transform themselves and their community against devastating odds with the help of an encouraging teacher and the game of lacrosse. It is an incredibly heartbreaking, yet incredibly heartwarming new Canadian film that captures many of the issues affecting Indigenous communities across Canada. I encourage everyone to watch it and I challenge all of the other producer boards and commissions in Alberta to share in our bounty and donate to this worthy project, North of 60. Contact Peter Ouellette at 780-690-1919 or p-m-o@telus.net.
---
Alberta Canola Connects is your window into the activities of the Alberta Canola Producers Commission as we work both locally and globally to help contribute to the long term success of canola farmers in Alberta.