by Jadon Hidebrandt, Alberta Canola Policy Intern
Visions 2018 Conference – Agri-food Superclusters: Industry Game Changer?
What's an agri-food supercluster? What's going on with NAFTA? And where does the Ukraine fit in? These were questions answered at The Visions 2018 Conference hosted by the Alberta Agricultural Economics Association (AAEA) and the University of Alberta on July 4-5.
Keynote Jean-Philippe Gervais, Chief Economist at Farm Credit Canada addressed rising farm debt, trade spats, and maintaining a strong outlook for agriculture.
Borrowing costs are vastly increasing (up 1% in the last 12 months) and so are farm debts!
The low Canadian dollar has actually made it better for doing business in Canada versus doing business in the USA. Even though we are sheltered from the economic upswing in the USA, foreign investment has increased!

Canadian farm exports and profits are still up and steadily rising.

Growth in farmland value is slowing down, which doesn't seem to be a good trend for agriculture; however, the growth since 2012 has been sustained.

Alberta crop receipts have levelled off, but the upside coming mainly via increased productivity.
Canola is a great example where the name of the game is volume/yield – a 5% growth in oilseeds are needed to maintain a positive outlook for agriculture.

Can we sustain farmland values? If you ask that question, then you must also ask whether we can sustain farmland incomes as well. If the answer to this question is yes, then the answer to being able to sustain farmland value is also yes.
Canada and China could possibly become the next "Bonnie and Clyde" on the world trade market. If China and the USA continue their trade spat and China continues to hammer the U.S. with tariffs, then Canada ultimately will sell more canola and soy beans to China.

It is vital for Canada to continue pursuing a free trade agreement with China.
The Government of Canada defines a "Cluster" as a dense area of business activity containing a critical mass of large and small companies, post-secondary and other research institutions. They energize the economy and act as engines of growth.
"Superclusters" build on the advantages of a cluster. Comparatively, these innovation hotbeds have stronger connections, a long-term competitive advantage, global brand recognition, and an outsized positive impact on job creation and economic growth.
So why is this important? The conferences main guest speakers were a Ukrainian Delegate who were here to discuss the emerging Ukrainian agricultural market and Ukrainian Superclusters.
Natalia Hordiichuk, founder of The Ukrainian Food Valley and Agritema LLC spoke about the Ukrainian Horseradish Cluster, its sustainability, and its potential in world markets. She discussed the difficulty for Ukrainian producers to acquire capital, and how Ukraine has a negative attitude towards corporations because of Soviet influence.
There are low entry barriers for households and microbusinesses in their agri-food sector, but a ton of barriers for large operations. Households only have small amounts of land labor available, and its usually in the form of a garden or a very small farm field. This cannot satisfy Ukraine's demand which is why they import a lot from China.
Natalia's main message along with the rest of the Ukrainian delegation was to emphasize that Ukraine should be one of the big world markets for agriculture. Ukraine has vast potential in the world agri-food market, but they require foreign investment to kickstart the process.
Ukraine has 1/3 of the worlds most plantable soil, a good supply of modern technology and equipment, as well as the added bonuses agri-food clusters bring – those being increased bargaining power and economies of scale.
The second session touched on grain handling and transportation and the passing of Bill C-49. Quorum Corporation's Bruce McFadden presented on the status of this.
He found that current grain volumes are down from last years as rail performance has declined, and that the turnover or "turn around time" with the new bill has taken longer than expected.
He noted that there are 8 million tonnes of storage in Alberta, and that rail capacity is the key to the market.
He also produced evidence that showed that in recent years at rail terminals, if there was an increased amount of rail containers, there was an increase in coal transportation and a decrease in grain transportation.
He also stated that ca is an excellent source to see how the railways and grain transportation are running.
Bill C-49 is key here, the hope is that there will eventually be a turnaround in grain transportation efficiency and producers won't be hung out to dry by ineffective rail transportation each year.
Mohammad Torshizi, Professor at U of A conferred that a change in the formula and regulation of grain handling and transportation can increase investment, output, volume, and efficiency.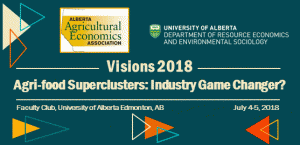 The third session brought discussions on trade, NAFTA, and the possibility of forming relationships with Ukraine and China. The first speaker was Marija Pavleska from U of A's China Institute and she spoke on the potential for a highly beneficial Canada-China Free Trade Agreement (CCFTA).
She noted that a free trade agreement with China likely isn't going to occur until there is a resolution with NAFTA.
She found a common trend in what the U.S. President is doing in regards to world trade. The President by no means is an economist but has a strong understanding of the legal aspect of trade deals and appears to be anti-regulations.
The common trend they found in his trade activity, and more specifically with NAFTA, is that he wants to eliminate regulations and trade imbalances, even if they are sensible and beneficial.
For example, she mentioned NAFTA's dispute resolution mechanisms as a good example of trade regulation that the President is against. She also mentioned the current Chinese – American trade war as a perfect example of this and stressed that Canada needs to take advantage of this and get a CCFTA done.
Alberta Agriculture and Forestry's Aarij Bashir and FAO's Kate Zverieva both spoke about the benefits of the Canada-Ukraine Free Trade Agreement (CUFTA), as a big chunk of Canada's agri-food sector is export dominated.
They reiterated that the free trade agreement with Ukraine will help Canadians involved in Canada's globally competitive agri-food sector that exports 50% of beef production, 65% of malt barley, two-thirds of pork, 75% of wheat, and 90% of canola.
Overall, this conference was a phenomenal learning experience, and was an invaluable experience that I will remember for the rest of my life. It not only taught me about agri-food clusters, but it enhanced my knowledge on world trade, free trade agreements, NAFTA, China as a key market, and how the Ukraine is a large agri-food market in waiting. I would like to thank Alberta Canola for giving me the opportunity to attend such an informative conference. The chance to meet the Ukrainian delegation and to connect with key agriculture industry players, as a summer student, was an invaluable experience that I won't soon forget.
---
Alberta Canola Connects is your window into the activities of the Alberta Canola Producers Commission as we work both locally and globally to help contribute to the long term success of canola farmers in Alberta.