Canola Watch Article from November 2018
Growers with canola downgraded for green and other factors may benefit from knowing the grading rules. The Canadian Grain Commission's Official Grain Grading Guide says:
No.1 canola may contain up to 2% distinctly green seeds and a maximum of 5% damaged seed (including green).
The allowable limit for No.2 is 6% distinctly green and 12% total damaged seed.
The allowable limit for No.3 is 20% distinctly green and 25% total damaged seed.
Anything above that is sample.
What is 'Distinctly green' (DGR)?
The Canadian Grain Commission has a colour guide for elevator graders to follow. Distinctly green (DGR) is a dark green throughout the whole seed. You might think of it as 'John Deere' green. As the Grain Grading Guide says "distinctly green tolerances are applied to crushed seeds which are a distinct green throughout." Read the definition here.
Light green or greenish yellow seeds – sometimes called 'limes' – are not distinctly green and are not included in the green total. Graders can't use rules like "two limes make one distinctly green". If the average count from a few 100-seed crush strips is two distinctly greens and 10 limes, the sample has 2% distinctly green. Period.
If a lot of seeds are lime coloured, this can factor into the overall evaluation of colour. If the overall sample does not have the "good natural colour" required for No.1, it could be dropped to a No.2. (Read the colour section in the Grain Grading Guide.)
What is 'Damaged seed' (DMG)?
The Canadian Grain Commission definition for "Damage" says damaged seed includes canola seeds that are: Distinctly shrunken or shriveled; badly discoloured from mould; completely and densely covered with rime; excessively weathered, sprouted, tan coloured, distinctly green, heated, insect damaged or otherwise damaged.
Damage is severe and obvious. 'Limes' are not considered damaged.
Want to dispute a grade?
Growers with concerns about the canola grade they have received can get a second opinion from the CGC through 'Subject to Inspectors Grade and Dockage.' Producers should ask for this at the time of delivering to the elevator. The elevator will send in a sample on the producer's behalf and both producer and elevator will receive a copy of the grade certificate, which is binding. Read more.
Shop around. For canola that is downgraded check out the discount schedules with a variety of buyers. Different delivery points may have different discounts for lower grades depending on the specific downgrading factors and their costs for additional handling, blending or processing to meet their customers' tolerances.
Further reading:
Companies that buy high-green canola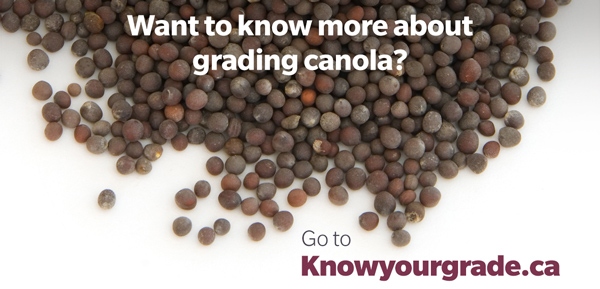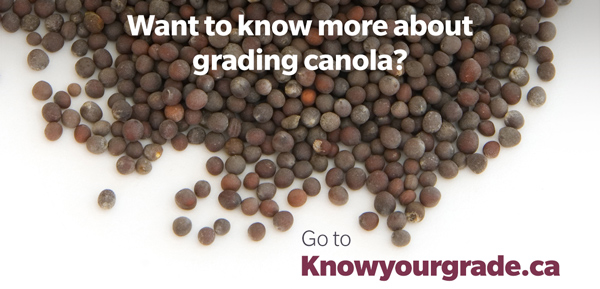 ---
Canola Watch is a free, unbiased, timely and research focused weekly newsletter from the Canola Council of Canada Crop Production Team
You can subscribe to Canola Watch and search all the articles on the Canola Watch website