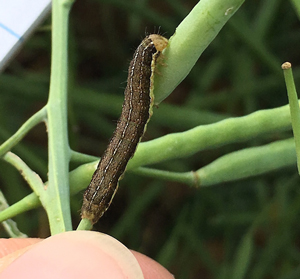 Test your bertha armyworm identification and scouting skills with these 6 questions.
When sweep netting for lygus, include nymphs like this one in the counts.
In all fields, including those with variable maturity, it is critical to wait until seed moisture content is less than 30% in the least-mature areas of the crop before applying glyphosate. Applications made before the correct stage increase the risk of unacceptable residue in the seed.
Growers may see good reason for two applications (7 to 14 days apart as specified on the product label) if conditions are good for fungal growth and the crop flowers for a long period.
Hot days (28-30°C and up) and warm nights (16°C and up) from bud to mid-flowering stages can increase flower abortion, producing blanks along the stem.
Alberta Canola board chair John Guelly will host his 4th Annual Canola Crop Walk August 7 on his farm near Westlock.
---
Canola Watch is a free, unbiased, timely and research focused weekly newsletter from the Canola Council of Canada Crop Production Team
You can subscribe to Canola Watch and search all the articles on the Canola Watch website