By Stuart Holmen, Director, Alberta Canola Producers
There is nothing more exciting than going to camp!  This year I joined eleven other colleagues from Alberta Canola Producers Commission, SaskCanola, Manitoba Canola Growers, and the Canola Council of Canada to be counselors for the 18th annual Canola Camp.  Twelve nutritionists, dietitians, food writers, food stylists, and food consultants came from Ontario, all across the United States, and from Mexico and China.  They all came to Saskatoon to learn more about how canola is grown, the process of turning the seed into oil, and what an amazing oil that canola oil truly is.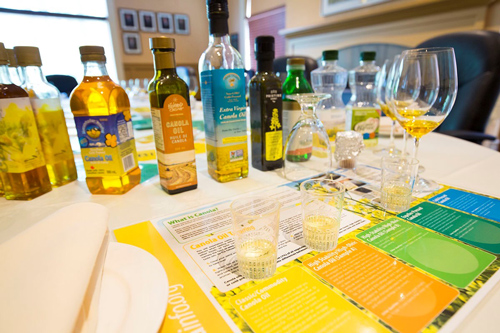 After arriving in Saskatoon we took a short drive Northeast of Saskatoon to Champêtre County. The drive showcases the beautiful canola fields in bloom that we take for granted on the prairies. Champêtre County was a true western experience where we were taken on a horse drawn wagon ride on the farm.  They cooked us steak, on a pitchfork, in canola oil in just 4 minutes!  Afterwards everyone was coerced into square dancing! What fun!
We spent time with the campers explaining canola, how we grow it, and what it's used for.  A big ah-ha moment for the campers was realizing that Canada+Oil=Canola.  We traveled out to the Heuchert Family Farm to see a working farm.  Randy does a great job of planting canola through the year to see what the plants look like from seedlings to mature plants.  We capped it all off with pictures in a blooming canola field.
The second part of camp focused on the nutrition of canola oil.  I was excited to learn that they are still doing research on the benefits of canola oil. Consuming canola oil can help control blood glucose in people with Type 2 diabetes, help reduce chronic disease risk, and reduce belly fat in adults. The low levels of saturated fats with the combination of omega 3 and omega 6 fatty acids make it the healthiest vegetable oil.
The last part of the camp focused on cooking.  There were numerous culinary demos and a stop at the Saskatoon farmers market to see local produce and items from around Saskatoon.  The craziest part was tasting canola oil. Yes we tasted canola oil just like a wine tasting! It was interesting to taste the difference between traditional and cold pressed canola and see how each has a difference place in the kitchen when baking or cooking.
Throughout all of camp we were fed fabulous meals by local chefs that truly showcased the local ingredients and took canola oil to the next level.  It was AWESOME!
At the end of Canola Camp it was inspiring to see people who are as passionate about using canola oil as I and all other farmers in Western Canada are about growing it!
---
Alberta Canola Connects is your window into the activities of the Alberta Canola Producers Commission as we work both locally and globally to help contribute to the long term success of canola farmers in Alberta.