By Brooke Parker, Risdon Farming and Canola Leaders Alumni
The Alberta Combine College 2019 put on by the Alberta Canola and the Canola Council of Canada was held at the ENMAX Centre in Lethbridge Alberta. The day started with coffee on the ice surface where 4 combines sat, a John Deere, New Holland, Case IH and a Claas. Amongst the combines was the area for the harvest tradeshow.
The speakers started with Rick Taillieu from Alberta Canola providing a rundown of where our check-off goes and how all the members of the canola family work together. Angela Brackenreed was our first speaker, who is an agronomy specialist from Manitoba as well the harvest lead for the Canola Council.
She advocates for us to share our canola experiences because each harvest is different presenting different challenges therefore last year's combine settings may or may not apply. The Canola Council's goal is for us to average 52 bu/acre by 2025 and with the current average at 40 bu/acre, we have some work to do! Improving harvest management is expected to contribute an average of 2 bu/acre towards the goal.
Angela also spoke on early season management and pre-harvest management. Pod shatter varieties have definitely helped with only a 1% harvest loss when a crop stood for an extra three weeks in a study. Look for complete dry down, cut green stubble a little higher, let the least mature areas ripen as much as you can and use a combination of all the pre-harvest techniques to aid in harvest timing to lessen harvest losses.
Joel McDonald was the next speaker. He represented PAMI, Prairie Agricultural Machinery Institute and spoke of the methods and projects PAMI has done in terms of harvest losses. Joel's advice was to "think in terms of bushels per hour and not acres per hour" when looking at combine loss. You can measure your losses by weight, volume or seed count, all work. By windrowing you can more accurately measure your losses. He promotes checking for losses, calibrating loss monitors regularly, optimizing combine settings and carefully assessing the losses.
Joel also suggested that you should draw the inside of your combine (and the flow of material) out on a piece of paper. If you can't draw you can't properly set it. You need to understand what is going on inside your combine to be able to set it.
There was over 150 people registered, but we were divided into smaller groups for the day. As part of the afternoon combine session groups, we went to the coaching sessions being held in the dressing rooms at the rink.
Our first coaching session was about pre-harvest aids with Gregory Sekulic and Ian Epp from the Canola Council. They spoke about swathing timing, and using pre-harvest aids of Reglone, Heat, Heat and Glyphosate and when would be the opportunities to use each aid.
Our second coaching session was with Autumn Barnes and Clinton Jurke from the Canola Council and it was about late season canola diseases. Sclerotinia, clubroot, blackleg and verticillium. Verticillium was new to me. They showed pictures of infection rates of clubroot which was very interesting.
Our third session was on grain grading with Scott Kippin and Romeo Honario from the Canadian Grain Commission. It was good to reiterate that the CGC are there for impartial grain grading if there is a dispute between a producer and elevator. We have a right to be there and watch the grading while at the elevator.
After those session we went back to the meeting room and had a fantastic tasty lunch. During lunch Brain Innes, the Vice President of Public Affairs for the Canola Council spoke about canola market access update. Yes, there is lots of negative news about trade for us but in 2018 Canada hit a record for their agri-food exports. 90% of canola products are exported as seed, meal and oil. With 40% going to China we need to address the problem of gaining market access back. He also spoke of market diversification and supporting producers.
We then went to our afternoon combine session, while the morning combine groups went to the coaching sessions. We went over to the John Deere combine where Jerry Van Lent from Western Tractor tried to pass as much of his 40 years of experience with combines as he could!
Jerry's advice included:
Always start at the header and how the crop is feeding.
Run belts and augers as slow as possible to not disturb the incoming crop.
Every passage from header to feeder house should only have a 1/4in passage so the crop doesn't get pulled thru unevenly.
Have your retractable fingers fully extended at 9:00 and fully reacted at 3:00.
Know your feed accelerator, which type to you have, standard, high capacity or small grains.
90% of threshing is done at the rotor and concave space.
These green machines are gentle giants. Might have some white caps in your wheat but you can over thresh your canola very easily so be careful.
If your threshing elements have wavy wear patterns, then they need replacing.
If there is cracking going on look at your augers, that is where the potential damage can happen.
That is a wrap on the major part of my notes that I took for the day. Not all of them though. There was a lot of information at the Alberta Combine College.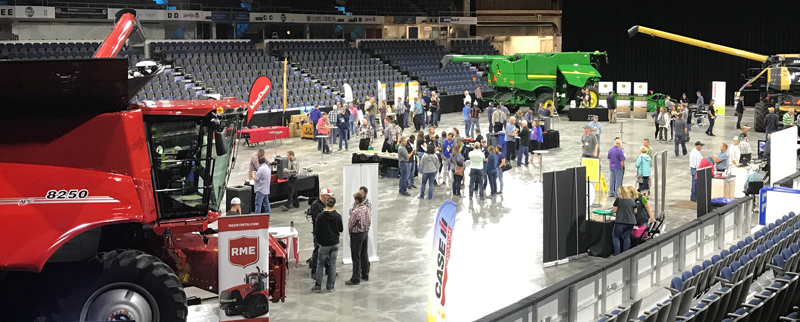 WATCH THIS VIDEO to learn more about managing harvest and mitigating losses 
---
Alberta Canola Connects is your window into the activities of the Alberta Canola Producers Commission as we work both locally and globally to help contribute to the long term success of canola farmers in Alberta.