by Brittany Hennig, Research Administration, Alberta Canola & MSc Student, University of Alberta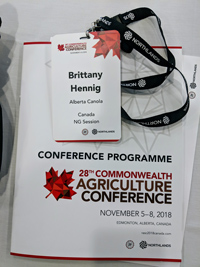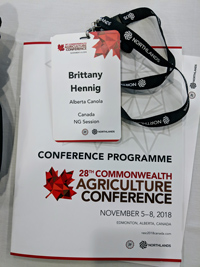 Earlier this year I was presented with the opportunity to attend the 28th Commonwealth Agriculture Conference in Edmonton, Alberta hosted by Northlands and the Royal Agricultural Society of Commonwealth (RASC). Delegates who attended the conference came from a variety of Commonwealth countries and as an enthusiastic and passionate member of Canada's agriculture industry, I was elated to represent the crop that contributes $26.7 billion dollars to the Canadian economy as an Alberta Canola Next Generation delegate.
The RASC Next Generation (NG) biennial conference encourages delegates to become valuable young leaders within their communities and societies through exchanging agricultural experience and knowledge between themselves across the Commonwealth.
The RASC Next Generation strategic intent is to:
Develop an international network and support system that will foster the collaboration and exchange of ideas between the NG delegation.
Advocate NG leadership within the RASC and its member societies.
Support the RASC in achieving its own aims and objectives.
Achieve tangible and measurable results within the commonwealth countries.
Professor David Hughes from the Imperial College in London highlighted how food makes the world smaller due to an increase in culture expansion world-wide. He addressed a growing population won't come from rural area, rather urban and 'mega-cities'. UN projections for population growth won't be from Europe, North America, Latin America or Asia – solely Africa (increase of over 3 billion, 2015 to 2100), and unfortunately climate change will have the worst effect on agriculture production in Africa and most of Asia (population ~5 billion). The next generation and younger will drive the change in the food demand and global industry.
The Commonwealth Agriculture Conference followed the NG portion that welcomed over 300 international delegates. Sessions focussed on agricultural successes within Alberta and Canada, as well as a forum to learn about other developed and developing countries agricultural successes and challenges, and organizational strategy.
Robert Saik kicked off the main conference, reviewing the challenges he's encountered in agriculture on a global scale. Covering poverty, politics and technologies – his presentation spurred the motivation in delegates, reminding us why we were here; what our purpose was.
Although not a Commonwealth member, Dr. Reinhard Grandke from DLG spoke on how they tackle challenges a National Agriculture Association incurs. DLG may not sound familiar to you, but they organize AgriTechnica. You could imagine a bit of organization and communication is required. DLG also has an approved DLG label that 25% of the German population recognizes and influences. Along with world-renowned exhibitions, events and product-testing centres, DLG has an international crop production centre, a competence ag centre with over 3000 experts who contribute voluntarily, and an international division for young farmers, DLG Young.
One of the concurrent sessions I chose had a panel speaking on how next generation entrepreneurs are shaping agriculture in Canada. These entrepreneurs were in the honey, malting, haskap berry and food bar industry. A few challenges (respectively) they face include:
Expansion and succession planning
Competitive advantage in a growing industry
Increasing production for market development
Dealing with consumers who don't support a pro-GMO farmer producing a clean, GM health-bar
Another panel I thoroughly enjoyed was on the Social License topic – creating an agriculture movement through raising awareness and achieving acceptance. Well known social media influencer, Lesley Kelly explained how her blog 'High Heels and Canola Fields' came about, and how each social media platform contributes to her reach. In addition to her blog, Lesley is also a founder of Do More Ag. She became vulnerable speaking on mental illness and the impact it has in the agriculture community. Aimée Ferré Stang explained to delegates why she helped launch Agriculture More Than Ever, which is a positive voice for Canadian agriculture with Agvocates nation wide. She highlights how Ag More Than Ever provides various readily accessible resources for social media platforms, event kits, articles, videos and presentations to reach as many people as possible. Rounding off this panel was Kevin Kossowan. Although Kevin is not in the farming world, he has a pretty interesting purpose – a filmmaker who specializes in telling the world about food, while trying to gain public acceptance. He connects with individuals who may not be interested in 'common' agriculture systems. Rather, culinary experiences – exotic/wild meat, natural plants in their respective ecosystems etc. He looks at food on a global scale to be as resourceful and sustainable as possible.
Jeffrey Fitzpatrick-Stilwell, Senior Manager from McDonald's Canada, gave an amazing presentation on their Canadian Beef Sustainability Journey. He outlined the 'Priority Focus Areas' which encompasses addressing their entire supply chain: climate change, water resources, waste, human rights, deforestation, farming livelihoods, and of course – the health and welfare of animals. He continued by explaining that Canada was chosen for the pilot of attaining sustainable beef because of the abundance of industry support. Everyone was committed to Canadian Beef. In 2014, the CRSB (Canadian Roundtable for Sustainable Beef) was formed to collaborate and improve the Canadian beef industry. McDonald's worked with every stakeholder in the beef industry to define what sustainable beef is – and work towards achieving it.
Following the 'Bee' talk, I discussed the consequences of the neonic ban in the UK with a few people. I continued Rob Saik's GMO talk with many delegates who either didn't initially like them or were banned where they farm. Beef growth hormones were a total shocker for some delegates, and I was able to gather some information for them from beef producers showing cattle at FarmFair, as well as supply online resources. I was proud to represent my hometown for the 28th Commonwealth Agriculture Conference – and some delegates even thanked me for having snow for them! I was not only able to answer their questions on Canadian Agriculture, but also learn from asking those same questions back to them. Knowledge on Canadian agriculture practices has expanded throughout the Commonwealth, and hopefully Canada can use their challenges and successes for growth and development too. I strongly encourage anyone in agriculture to consider attending the 29th Commonwealth Agriculture Conference in Norfolk England, 2020. Not only will your knowledge and appreciation for agriculture expand, but so will your network of friends.
---
Alberta Canola Connects is your window into the activities of the Alberta Canola Producers Commission as we work both locally and globally to help contribute to the long term success of canola farmers in Alberta.