by Aymie Haslam, Policy Intern, Alberta Canola
The conference on the Sustainability of Canadian Agriculture, co-hosted by the University of Saskatchewan and Agriculture-Agri Food Canada, took place on March 12-13, 2020 in Saskatoon. Speakers from all over Canada came to present their work on scientific solutions for farm sustainability. Sessions featured topics on biodiversity, soil health, soil carbon, economics and solutions for climate change.
Both days had interesting and informative presentations, and opportunities to talk with industry representatives from different organizations. Talking with Elise Bigley, a representative from the Canadian Agri-Food Policy Institute (CAPI), showed me the diversity of backgrounds accepted in the agricultural field. Bigley encouraged me to continue to explore agriculture and confirmed my experience that the industry covers a broad spectrum of topics. Graham Gilchrist, from Biological Carbon Canada, challenged my thinking and prompted me to dig deeper when asking questions about agricultural issues. He gave me new questions to consider while researching offset systems.
Ryan Hangs' presentation described an analysis of long-term conservation management practices. Their findings indicate that, "after 21 years of conservation management practices, more of the soil organic carbon is present in an active, dynamic fraction that contributes to soil health and nutrient cycling". It was this session that taught me about how carbon sequestration converts CO2 to soil organic matter. I learned how important this process is to soil health and thriving crops. Later presentations pointed out that biochar was an ineffective resource for sustainability because the cost outweighs the benefits of using it. Biochar is expensive and incorporating it into soil is labour intensive. The economics of climate mitigation cannot be ignored by industry or government.
Tristan Skolrud presented on "Optimal GHG regulation in agriculture: Mitigating climate change and preserving efficiency". He discussed "solutions to minimize the cost of greenhouse gas abatement in agriculture". It was recommended that carbon sequestration be seen as a soil health issue rather than a climate initiative. Skolrud challenged the effectiveness of current climate policy while pushing farmers to lean into a carbon tax given its inevitability. Carbon markets are a way to monetize carbon and are not ideal as climate initiatives. Tristan stated that carbon tax is not about reducing emissions, it is about pricing carbon. Therefore, the question industry should be asking is: where can we reduce the most emissions for the lowest cost? Tristan elaborated his point using the following example: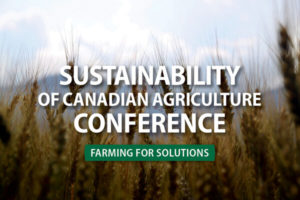 If our goal is to minimize the cost of CO2 reduction, who do we give a subsidy to? And for how much? If carbon is priced at $50/tonne and it costs farms $100 to reduce emissions and Oil and Gas companies $60 to reduce emissions, then it makes more sense for farms to pay Oil and Gas companies a $10.01 subsidy to reduce emissions. On a macroeconomic level the carbon tax or carbon system may only be effective in the absence of other regulations. We have to ask ourselves, what is the current abatement cost? Where can we reduce emissions for the lowest cost? Exploring industry options to find effective solutions to wicked problems is a value-added activity. If we ask the right questions, we can get answers to better help Alberta farmers keep and grow their margins.
It is increasingly important that industry demonstrates to the public that environmental sustainability is at the forefront of farming techniques and technologies. Farm initiative for carbon sequestration works, keeping tonnes of CO2 out of the atmosphere. The information from the conference suggests that carbon policies must reduce the cost of environmental stewardship. Since Alberta has challenged and defeated the carbon tax, carbon regulations need to reflect policy that supports further carbon sequestration without being punitive. I'm happy to share the informational nuggets I found particularly interesting and look forward to contributing to the policy work of Alberta Canola.
---
Alberta Canola Connects is your window into the activities of the Alberta Canola Producers Commission as we work both locally and globally to help contribute to the long term success of canola farmers in Alberta.