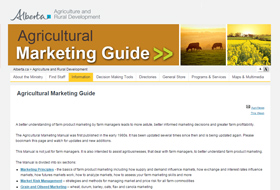 The Agricultural Marketing Guide from Alberta Agriculture & Rural Development is designed to provide a better understanding of farm product marketing by farm managers that leads to more astute, better informed marketing decisions and greater farm profitability.
.
The Agricultural Marketing Manual was first published in the early 1980s. It has been updated several times since then and is being updated again. Please bookmark this page and watch for updates and new additions.
This Manual is not just for farm managers. It is also intended to assist agribusinesses, that deal with farm managers, to better understand farm product marketing.
Tags: grain contracts, marketing