Join Alberta Canola Director Cale Staden for a day of agronomy, marketing and management information.
If you have not pre-registered, please join us and check in at the door.
SPEAKERS AND TOPICS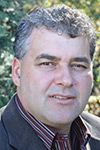 Mike Jubinville, Senior Analyst – ProFarmer Canada
Seeing the Forest for the Trees There is plenty of focus on daily grain market oscillation, but the big picture outlook may be telling us a different story. Big Crops globally are being matched by big demand.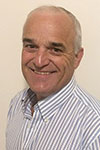 Merle Good, Farm Management Adviser – GRS Limited
Proposed Changes to Federal Tax Laws – Merle will provide an update on proposed tax changes and how they may affect your farm. Learn about the proposed rule changes and their impacts on converting wealth into retirement income, restrictions in farm transfers, and potential reductions in your capital gains deduction.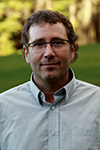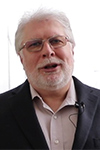 Dan Orchard, Agronomy Specialist – Canola Council of Canada
Bruce Gossen, Research Scientist – Agriculture & Agri-Food Canada
Clubroot… Coming to a Farm Near You – Dan will discuss clubroot discoveries over the years, how to slow the spread of clubroot and how to manage the disease to continue successfully growing canola. Bruce will share the latest research results and discuss the projects that underway.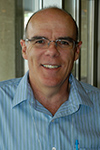 Neil Harker, Research Scientist – Agriculture & Agri-Food Canada
Canola Rotation Agronomics & Economics – Neil will summarize some short and long-term canola rotation studies he has been involved in. Data from several Prairie locations showing yield, pest and economic implications of continuous canola versus more diverse rotations will be presented.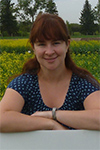 Breanne Tidemann, Research Scientist – Agriculture & Agri-Food Canada
Herbicide Resistance and Harvest Weed Seed Control in Western Canada – Breanne will discuss the current state of herbicide resistance in western Canada. She will then introduce Harvest Weed Seed Control as a potential control option, what research has been conducted, and what research is ongoing throughout the Canadian Prairies.
plus an update on the activities of the Alberta Canola Producers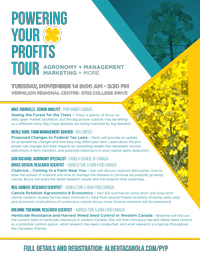 There are 12 Powering Your Profits events being held across Alberta in November – see the full list of locations
subscribe to our Alberta Canola Connections e-newsletter for updates on all of our events