The 5th annual canolaPALOOZA returns to the the Lacombe Research & Development Centre on Wednesday, June 26, 2019.
canolaPALOOZA is hosted by Alberta Canola, the Canola Council of Canada and Agriculture & Agri-Food Canada
There really is nothing like canolaPALOOZA – with over 125 experts spread across more than 25 learning stations… there really is AN EXPERT ANSWER FOR EVERY CANOLA QUESTION.
Set your own schedule as you visit the learning stations of your choice, all at your own pace!
THERE IS NO CHARGE TO ATTEND THIS EVENT – BUT PLEASE REGISTER
Meals and treats are available for purchase from the food trucks on site.
ONLINE REGISTRATION IS NOW CLOSED
Please feel free to join us at canolaPALOOZA on Wednesday, June 26.
And then just check in at the registration desk when you arrive 
INTERACTIVE LEARNING STATIONS
More than 125 researchers, agronomists and industry experts will be there to provide an expert answer to every canola question at these learning stations:
Stand Establishment
Seeding Implements
Dormancy and Seed Banks
Harvest Losses & Harvest Aids
Cleavers & Cleavers Management
Herbicide Injury
Sprayer Tank Cleanout & Drift
Fertility
Genetics & Seed Production
Ecosystems Services
Soil Conservation
Flea Beetles & Flea Beetle Management
Beneficial Insects
Sclerotinia
Clubroot
Blackleg
Harvest Weed Seed Management
Pulse Agronomy
Winter Wheat Agronomy
Wheat Agronomy
Drones & Imagery
Farm Safety
Market Access/Keep it Clean
Canola Consumer Information
Canola Grading
Team Alberta Policy & Advocacy
Canola Watch Live with Real Agriculture – scheduled times
Tillage Effects Demonstrations- 11:00am and 2:00pm
THANK YOU TO OUR SPONSORS FOR SUPPORTING canolaPALOOZA!
Visit the Gold Sponsors on the midway and visit the PALOOZA Plot Partners learning stations.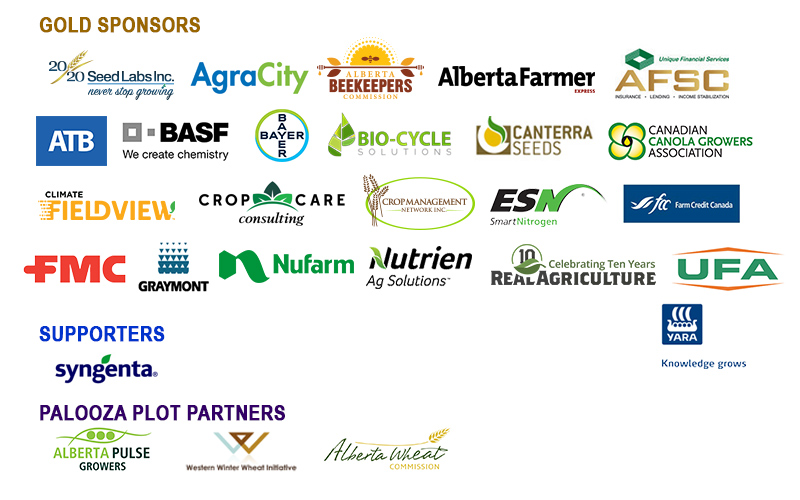 Interested in sponsoring canolaPALOOZA 2019 – contact [email protected] 
FOOD TRUCKS!
Enjoy lunch and a treat from the food trucks on site (all open no later than 11:00am) – all the food trucks take cash, credit cards and interac payments. Visit their websites and plan your dining adventure!
Kozak City – Ukrainian + Canadian breakfast & perogies
Chedda' Heads – Gourmet grilled cheese sandwiches and sides
The Stache – Soft tacos and sandwiches
Asian Food Treats – Asian cuisine with a twist of Canadian
Oh My Cod Fish & Grill – Fish & chips, burgers, hot dogs and fries
Dinger Rings – Mini donuts and lemonade
Queen Bees Frozen Treats – ice cream, sundaes, edible cookie dough and cold specialty drinks.
The ManVan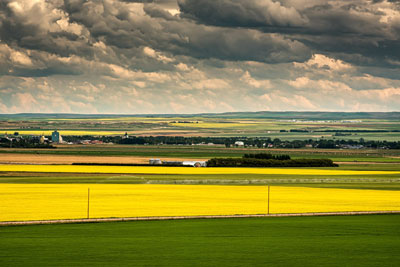 Canada's first and only mobile men's health clinic, offering free PSA (Prostate Specific Antigen) blood testing for men aged 40-80 is coming to canolaPALOOZA. One in seven men in Alberta will be affected by prostate cancer. When detected early it is very treatable. A PSA blood test from your family doctor or a 10 minute trip to the MAN VAN can aid in early detection.
Get your PSA test dome and canolaPALOOZA and you will be entered to win this canvas print courtesy of Dr. George Clayton (talk to George at the Soil Conservation learning station)
Here's a look back at the 2018 event – more than 700 attended the one day event!
CCA CREDITS

–

not available
canolaPALOOZA does not have a structured start and stop time for specific sessions, therefore we are unable to obtain certification for continuing education credits.
CCA's can self report following the event – please see the Prairie CCA frequently asked questions for more information
please print off the list of sessions and speakers and your registration confirmation email, as it may be required for self-reporting