The 2019 Alberta Combine College will be co-hosted by Alberta Canola and the Canola Council of Canada at the ENMAX Centre in Lethbridge on Wednesday, July 10.
Combine College will feature presentations about managing harvest and measuring losses, and an update on market access from the Canola Council of Canada.
Small group sessions will have hands-on combine optimization sessions and coaching sessions will help get you ready for harvest.
At the end of the day, attendees will stay for a 'mix and mingle' where they can get questions answered by combine manufacturers or coaching session leaders.
There will be a harvest and storage tradeshow throughout the day.
REGISTRATION IS NOW CLOSED
Alberta Canola has extended the early bird pricing until July 3. Registration closes on July 3.
Select only one combine session per person.
ABOUT THE EVENT
Small group hands-on training for harvest optimization in the combine session of your choice:
Case IH– Rocky Mountain Equipment, Lethbridge
Claas– Alberta Ag Centre, Taber
John Deere– Western Tractor, Lethbridge
New Holland– Vanee Farm Centre, Lethbridge
Mechanics Special – Various speakers covering older models of combines
Coaching sessions will focus on:
Grain grading
Harvest aids
Late season diseases in canola
SCHEDULE OF EVENTS
8:30 am – 9:00 am
– Registration, harvest tradeshow
9:00 am – 9:20 am
– Welcome, introduction (Angela Brackenreed, Canola Council of Canada)
9:20 am – 10:20 am
– Measuring and managing harvest and harvest losses (Joel McDonald, Prairie Agricultural Machinery Institute)
10:20 am – 10:45 am
– Coffee, harvest tradeshow
10:45 am – 12:15 pm
– Group A: Combine session of your choice
– Group B: Coaching sessions
12:15 pm – 1:45 pm
– Lunch
– Canola market access update (Brian Innes, Canola Council of Canada)
– Harvest tradeshow
1:45 pm – 3:15 pm
– Group A: Coaching sessions
– Group B: Combine session of your choice
3:15 pm – 4:30 pm
– Mix & mingle with equipment manufacturers, coaching sessions, harvest tradeshow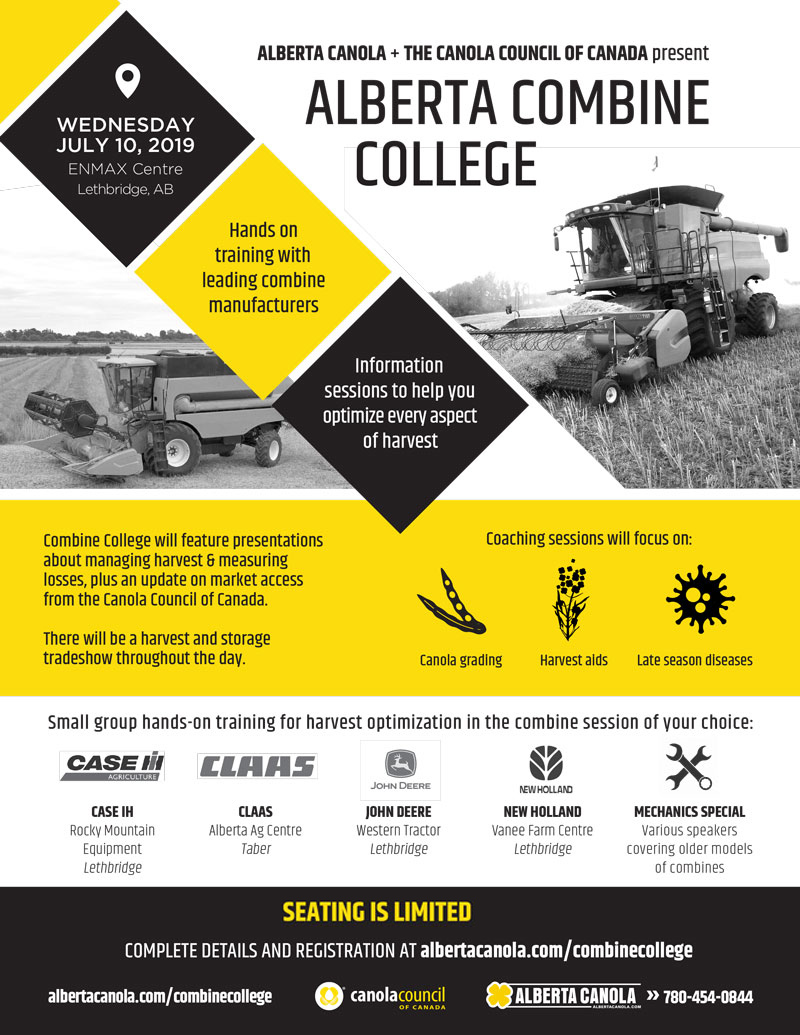 SPONSORS

HARVEST TRADESHOW
AFSC
AgSafe Alberta
BushelPlus
Grandslam Innovation Corp
MacDon Industries Ltd.
Schergrain
Combine World
Harvest Services (a division of Ralph McKay Ind.)
---
For Combine College sponsorship and harvest tradeshow information please contact Rick Taillieu [email protected]
subscribe to our Alberta Canola Connections e-newsletter for updates on all of our events