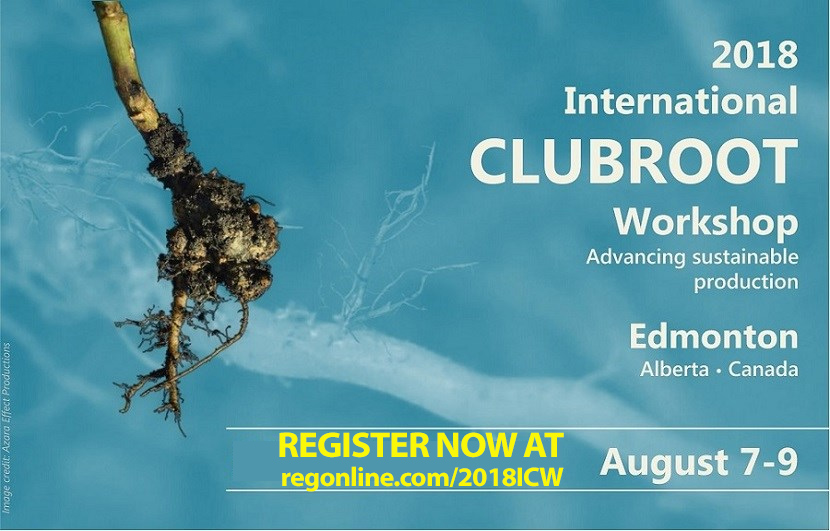 The Canola Council of Canada along with the International CLUBROOT Organizing Committee are holding the 2018 International CLUBROOT Workshop at in Edmonton, Alberta from Tuesday, August 7 to Thursday, August 9. With clubroot spreading across the Prairie provinces, varietal resistance breaking down and new pathotypes being identified, now is the time for a unified, collaborative approach to exchanging key insights and leading-edge ideas on this serious disease affecting canola.
The unique three day program will highlight clubroot research from across Canada and around the world. It brings together international and national speakers to lead the discussion on this disease which has the potential to cripple valuable crop production. Join this elite group of clubrooters as they provide critical analyses of "what lies beneath" and build a framework for research targets and clubroot management strategies.
Sessions will highlight the latest research on breeding and genetics, genomics, epidemiology, molecular plant-pathogen interactions, and disease management. There will also be sessions aimed at educating growers, regulators and agronomists.The program format will have networking opportunities, poster sessions and off-site tours, including a tour of a "one-of-a-kind " multiple pathotype nursery!
For complete event details and to register visit  www.regonline.com/2018ICW
subscribe to our Alberta Canola Connections e-newsletter for updates on all of our events