Clubroot is a soil-borne disease that can lead to severe gall formation on canola roots, resulting in premature ripening or plant death. Clubrot is spread with the movement of contaminated soil by wind, water erosion and the transfer of soil by farm machinery. The three steps to successful sanitation of farm machinery plus recommendations for high-risk and low-risk area are outlined in this brochure.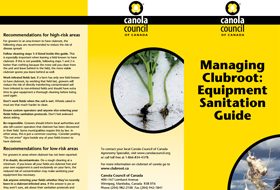 Updated in November 2012.
---
Download the publication below.
Printed copies of this publication can be ordered from the www.canolacouncil.org website