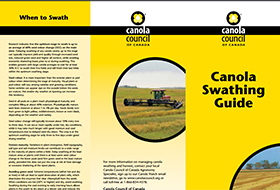 The Canola Swathing Guide is an 8½x11″ four-page colour brochure in durable, plastic coated paper that provides clear and concise details on how to determine when to swath canola. The brochure includes a picture series that shows a mature canola plant and the seeds at various seed colour stages.
Brochure has been updated in November 2012.
---
Download the publication below.
Printed copies of this publication can be ordered from the www.canolacouncil.org website