Canola Scouting and Sweep Net Insect Identification Card is an 11×12″ laminated, full colour, two-sided card that identifies the key insect pests of canola. It also shows the beneficial insects in canola. There's a description of each pest, damage caused and when to scout for each. The card also givesdetails on how and when to use a sweep net to collect pests. The card can be folded and slipped into a shirt pocket.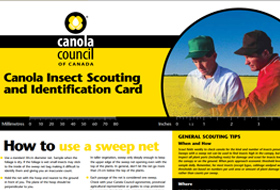 Card updated in November 2012.
---
Download the publication below.
Printed copies of this publication can be ordered from the www.canolacouncil.org website
Tags: bertha armyworm, cabbage seedpod weevil, cutworms, diamondback moth, flea beetles, insects