The two-day Hedging Edge Commodity Marketing Course is co-hosted by Alberta Canola and the Alberta Wheat Commission.
Red Deer – Holiday Inn Hotel and Suites South
The Hedging Edge Commodity Marketing Course gives you:
pre-course access to the HedgeLink library of video tutorials (13 modules) plus the Elements of Charting videos (5 modules)
two days with interactive instruction and market scenario exercises
meals are included (two lunches, one supper, one breakfast)
Seating is limited and pre-registration is required. Register on or before December 1, 2017 and save $100 per ticket.
About the Course
Day 1 – Wednesday, December 13
9:30am – 12:00pm   Course Time
12:00pm – 1:00pm   Lunch
1:00pm – 5:00pm     Course Time
6:00pm – 9:00pm     Supper and evening trading exercises
Day 2 – Thursday, December 14
7:30am – 9:00am      Breakfast
9:00am – 12:00pm    Course Time
12:00pm – 1:00pm    Lunch
1:00pm – 3:00pm      Course Time
The course will cover the following topics using a combination of presentations and hands-on trading exercises:
the basics of marketing
futures market overview
hedging basics
future spreads
options basics
options strategies
utilizing the cash advance program as part of a farm marketing strategy
Course Instructors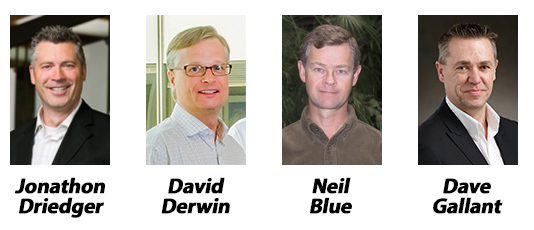 Jonathon Driedger – Senior Market Analyst, Farm Link Marketing Solutions
David Derwin – Portfolio Manager, PI Financial 
Neil Blue – Provincial Crop Market Analyst, Alberta Agriculture & Forestry
Dave Gallant – Director of Finance and Operations, Canadian Canola Growers Association
About the Videos
The 13 videos are hosted by Jonathon Driedger are part of the FarmLink Marketing Solutions HedgeLink program:
Introduction to HedgeLink (12:28)
Futures (26:29)
Margins (13:32)
Hedging (8:33)
Spreads & Carrying Charges (18:20)
Basis (13:21)
Other Hedging Considerations (13:43)
Introduction to Options (18:25)
Put Options (11:53)
Call Options (8:19)
Covered Calls (9:41)
Option Spreads (13:26)
Building a Hedging Strategy (10:04)
Elements of Charting Video Series
With host: Harold Davis, Economic & Commodity Researcher & Trader and the Author / Analyst of Prairie Crop Charts
Charting & Drawing Trends (12:50)
Tops, Bottoms & Reversals (11:06)
Support & Resistance, Trading Ranges, and Corrections (13:13)
Contemporary Issues: Gaps, Reversal Days & Volatility (10:38)
Market Cycle (7:30)
Access to the videos will provided within 10 days of registration and payment of course fees. Once the video access is granted, only a partial refund may be issued for the course.
A group rate is available at the hotel (rooms starting $119.99 plus taxes) until December 1. Details will be included in your confirmation.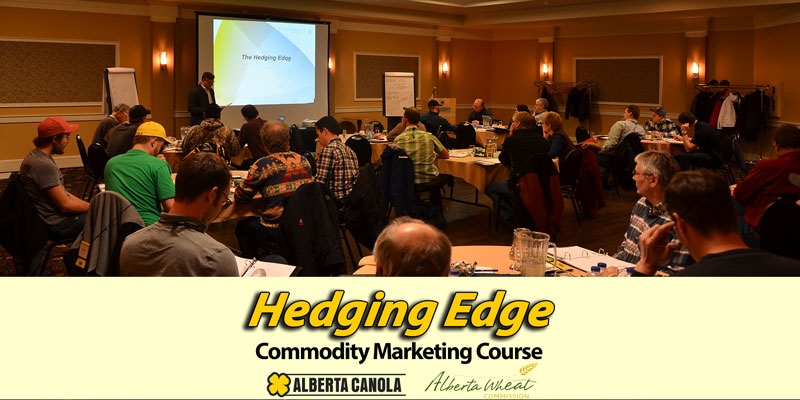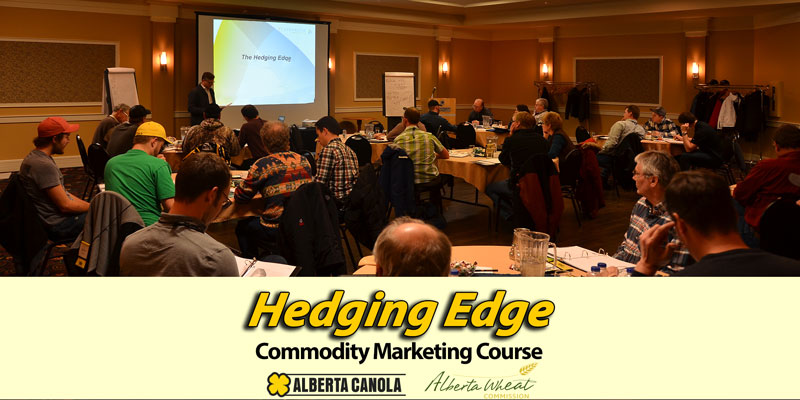 ---
Payment for this event will be made to the Alberta Canola Producers – click here for the Alberta Canola Event Policy for Registration Refunds & Transfers